Good morning and hello all,
We have an older 1985 Mallard TT 26 footer that has the large plate glass windows where the upper section does not slide. These windows are located in the dining area of the TT.
These windows have a 1/2"-wide plastic strip that surrounds and holds the glass against the aluminum frame. It clips in and completely surrounds the glass. The glass is also attached with a type of glue as well.
Does anyone know where that plastic strip can be found? I'm in Maine near Bangor and have already spoken with Webb's RV, the largest RV dealer in Maine and they have not been able to help me.
Below are images of the actual plastic strips.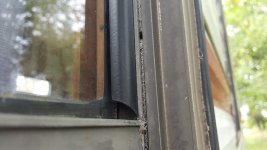 Alina and Ralph
Last edited: