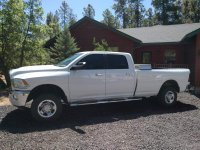 2012 Dodge Ram 2500 SLT Long Bed
Quad Cab Automatic with Cummins Diesel Engine and 4wd. 143K Miles. Set-up to pull a 5th wheel, has B&W Turnover Ball system and Companion Hitch, can tow goosenecks or 5th wheel trailers. Also, conventional trailers with Factory Tow Package. Has Remote Start, backup camera, fog lights, Alpine 40GB Uconnect system with factory subwoofer under rear seat.
$29000, OBRO. Located in Lakeside AZ. 3 hours NE of Phoenix, 4 hours SE of Albuquerque. Contact me via Phone at 928-612-827 Four
Photos:
https://photos.app.goo.gl/7yB66vN6DB37wWgm8
We just sold our RV and no longer need the truck to pull it. I am the 2nd owner, but have been the only driver since it was purchased. This belonged to my employer, and I purchased it after we parted ways. Clean/Clear Title, never been wrecked or abused. Non-smoker, but have had a dog ride inside occasionally, but no funky smells.
I have all manuals, all keys, etc. Additional photos available.
The original window sticker is in the photos and it has all the pertinent information. NADA value estimate is in there as well.
Things that were added, and key maintenance items as follows:
Add-ons:
Tinted front windows $80
OEM Chrome Running Boards $300
Front receiver hitch $100
Pro-tech Aluminum Tool Box $800
20,000 Pound B&W 5th wheel Hitch $1500
Rhino Bed Liner $800
OEM Front Bumper Assembly with Fog Lights $500
Flat Floor Kit for Rear Storage $200
Air Bags $400
2" Front Leveling Kit $300
Trailer Plugin installed in Bed Area $100
EGR and DPF Delete, with S&B Cold Air Intake, ECM programmed using EFI Live for improved towing and New Exhaust. Totaled $1500 I believe. This was done after the factory warranty expired at 100K miles. This won't pass emissions if your state/county requires it.
Husky Xact Fit floor liners installed when new $200
Tailgate assist, lowers the tailgate slowly. $75
Bug Deflector. $40
Cold air Kit and Engine Block Heater $200
Recent Maintenance:
New Shocks at 90K Miles
New Tires at 130K Miles
New Brake pads and rotors at 136K Miles
New fuel filter at 136K miles.
It is due for an oil change and an air filter cleaning (reusable filter) which I will get taken care of.
I have been the only driver, as this was my work truck, I am technically the 2nd owner. I purchased it from my employer as I changed jobs. It has never been off-roaded, and it is rust free, with the exception of a small spot inside the truck bed, on the floor, about the size of a quarter. It's always had synthetic oil, and doesn't leak or burn any oil. There is some oil residue on the valve cover, but this is pretty standard. The interior could use a deep clean, there are some spots here and there that should clean up fine. The driver's seat has some wear, no rips or cuts. Remaining seats are great. Leather steering wheel has some wear at 12 o'clock. Carpet under the mats looks new. Original windshield is in good shape. Small dent in rear bumper The tailgate needs emblem reinstalled (I have this, just haven't done it) and is in meh shape and has some dents/scratches. The front of the hood has some rock chips, but nothing egregious.