Anyone else feel like every time they go camping, something goes wrong with their camper? This is our 3rd camper and yes, each camper has had problems.... but nothing like this. We bought our 2017 Big Country new last year. Here is what has gone wrong thus far.....
3 days off the lot, in Myrtle Beach, 1 of 2 kitchen slide outs leaked (poured) water inside every time it rained.
Kitchen table top came loose from base while eating lunch, and flipped end over end almost hitting my daughter in the face
Light fixture above kitchen table fell off hitting kitchen table and shattered in a million pieces
Fridge has completely stopped working on 2 different trips
Bedroom a/c unit stopped working in Myrtle Beach
Bedroom slide out shearing off screw heads and needed readjusted
Awning arms out of whack and needed realigned
And just last weekend, the gas portion of the water heater stopped working.
It pretty sad that the service manager has told me more than once, "we've literally had your camper here longer than you've had it."
I was hoping to get better craftsmanship and a higher quality product with the Big Country. We had a Forest River Sierra 5er. Turns out, we just made a BIG MISTAKE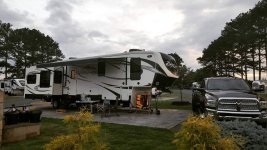 .