TorkLift
will be back with us this year, offering their GlowStep Revolution Step System and other RV and Tow Vehicle products to rally attendees.
Torklift has been an amazing unofficial Heartland Owners Club Vendor Partner over the past several years and we are happy to have them return to our big event.
Rally Pre-Sales Special Offer
Exciting news Heartland Owners Club Members!
To celebrate our upcoming North American Heartland Owners Rally, Torklift has just created an exciting Rally Pre-Sale offer. They are offering a 50% discount on their Torklift GlowStep Revolution Step System (link) for the first 20 Heartland Owners Club Member Goshen Rally Attendees that can take advantage of it.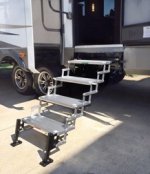 The terms of the offer are:
Must be a Heartland Owners Club Member and attending the 2019 North American Heartland Owners Rally
Product must be for your Heartland RV
Must order before May 15, 2019
Must order directly with Kerstin Stokes by phone or email (253.299.0060 / kerstins@torklift.com)
Kerstin will take, track and fulfill orders at this discount until she takes the 20th order.
Do not post a reply to this thread stating that you want one of these 20 as we are not taking orders or making a list for Torklift. We are merely passing on this offer to you so you may contact Kerstin right now to place your order.
Do feel free to circle back here after you place your order to let others know how the process went.
Thank you Torklift and congratulations to our Club Members that can take advantage of this.
Rally Special
To be announced very soon!
Questions?
Feel free to reach out to the TorkLift team at 877.343.6933 with any product question you may have.
---
Click here
to return to the 2019 Goshen Rally Vendor Specials thread.
---
Last edited: