The next project has been on the list for a while, Adding a tool box to the front tongue. I purchased a Sherline tongue scale to check tongue weight first, which came in at 635Lb. So I have some room to add a few things.
https://www.sherline.com/product/sherline-trailer-tongue-weight-scale/
A pre-made box was chosen that best fit the dimensions I wanted. The propane tank holder was moved as far up to the tongue jack as possible, then the battery angles were cut off. The V will be spanned by 1/4" X 4"w aluminum flat stock for the box to be secured to. The battery was going to reside in the new box, but will be changed to lithium and moved inside under one of the dinette seats.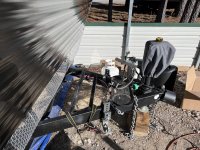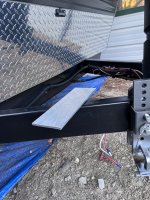 Last edited: