With the blessing of the Heartland moderators RV SnapPad is proud to announce a special HOC 'Group Buy' promotion.
Simply put, the more people that join the better the discount!
Details:
Run time: October 15th - Midnight October 30th, 2016.
Starting this evening HOC members can sign up for the 'Group Buy' by responding to this thread or emailing their intentions to info@rvsnappad.com.
Every day or two we will update the thread with the total count and members that have joined.
Discounts available:
• Between 0 – 10 = $10 off
• Between 10 – 15 = 10% off
• 15+ = 15% off everyone's order
• 20 = 1 lucky participant will win their order
Contest runs until we reach 20 or until October 30th, whichever comes first.
Once the contest has finished each participant will get their own unique discount code via email or private message.
Discount codes will be valid for 5 days after the contest ends and will expire Friday, November 4th at midnight.
If the 20 member threshold was reached, a winner
will be randomly chosen November 5th.
You must purchase using your discount code to be entered into the random draw.
If / when a random winner is chosen their purchase will be refunded and their order will be processed as usual.
That's it! If anyone has any questions please post it on the forum, private message us or email it to info@rvsnappad.com.
We requested each participant be sure they have the proper jacks.
(i.e. LCI's 'Level up' & 'Ground Control 3.0' leveling systems which come standard with 9" round landing feet)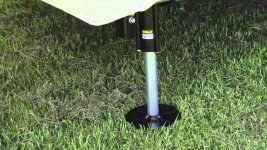 Looks like this
Everyone is encouraged to share across the forum and other social media channels to get the best discount possible!
Good Luck!

Facebook
Instagram
Twitter