I spent a lot of time pondering and researching the addition of a patio to my 3010. Even dicussed this with those who have tried various solutions, and failing to get the full details, I decided to work on my own solution. The result was so successful and really simple that I had to share it here for others. One thread on this forum had comments from the manager of the production line @ Heartline and his comments were in line with my own findings so I knew that I could not just mimic the cable from the frame to the door that the production models enjoy.
Examining the framing on my 3010 and checking the guage of steel used on models down at the local RV dealer with this option, I knew that applying cables would just warp the rear frame and be a cause for concern on the beaver tail sealing properly against the frame. I decided to go with a support to the door which is rated to sustain 3000 lbs. of total weight in the ramp position. 2 to 4 adults would be no problem. So far, the measured deflection is less then a 1/4 inch with three adults on board. Holding the door myself, I hardly felt any weight until the Mrs. walked out past the half way point and even then, it was not much.
Since the height would need to exceed 30 inches in most instances, I needed to come up with a solution other than jack stands. I was going to go with the slide out supports offered at Camping World, but when they said they would still charge me for shipping even though I was driving down to pick them up, I decided to make my own. My work is usually far better anyhow and this proved to be the case in this instance as well. I made 4 supports for less than the cost of two cheaply made chinese knock offs and the main slide out is now supported as well. I did use some steel laying around that I had so your milage may vary....
Once we were in place for our annual beach trip, I set things up and I have to say it's one of the best mods I have made to date. It really changed our experience this year and we've spent every evening out there for the great sunsets. When it's dark, I break out the propane fire pit and we really enjoy the moon and stars. With the rear landing gear down, the slideouts supported with the new stands and the wheels chocked, the trailer is very stable and the "rear deck" as we call it is rock steady. I picked up an indoor/outdoor patio rug on sale at Lowes. I think they are clearing them out as the season draws to a close.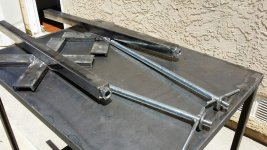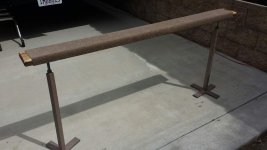 - - - Updated - - -
They're all great, but I think this was our best sunset.