After lots of digging, researching, and considering alternatives, I decided to move on to a manual transfer switch, something that will fit right in with the rest of the controls inside the coach and has a physical disconnect between switching sources (on - off - on). You can see my reasons leading up to this in this thread:

Hello All! Trying to get our rig ready to hit the roads soon and need to sort out the problem with the front AC. Last year this is what was done: Moved AC breakers so there is one on each leg, before, both units were on one side of the panel. New PD52DCSD Transfer Switch New PD9260C...
heartlandowners.org
These manual switches are very expensive and while you can find very similar knockoffs from China for much cheaper, I wouldn't trust them. Enter my search that eventually led to Kraus & Naimer switches and the catalog of Blue Sea Systems (BSS). The two best options that I could find are the switch only (9019) or the switch and panel (8363) from BSS.
This particular switch allows two separate sources and one output load rated for 65A and maximum 600V.
#9019 - is just that, a switch with a source selection panel
#8363 includes 9019 in a nicely laid out panel that also includes LEDs that light up when power is detected on either source, as well as if the polarity is reversed.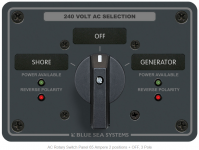 You can achieve the same thing as the switch panel by adding LEDs and the appropriate resistor yourself for half the cost (depending on the vendor). But most vendors are fairly close in pricing. I ended up finding the combined panel for less than or just a few dollars more than the switch alone. I did find the 9019 switch on eBay for even less, but when I considered the time it would take to fabricate my own heavy-duty aluminum faceplate, the additional cost of #8363 was worth it. The LEDs are a common type and just use a large resistor to connect to 120-240V AC.
Due to the cost of these switches, I found that the switches themselves are made by Kraus & Naimer (K&N) out of Austria. I figured I could get the switch at half the cost, but I was wrong. These are heavy-duty commercial switches that are used in a variety of industrial applications, so it comes at no surprise to the cost. I will add that there are a ton of used and supposedly working K&N switches from old equipment readily available for cheap. But not much info to ensure you are getting the properly rated switch without more digging through the manufacturer catalog if the seller didn't include the info.
Since the control cabinet inside the coach will require the PD52DCSD remote display to be removed, I'll make some rearrangements and enlarge the hole to accommodate this switch (assuming the depth of the knob allows the cabinet door to close)
Here are my reasons for this type of switch as well as location (inside of the coach):
1. Automatic start does not exist on this generator
2. If the power goes out while connected to shore power, I have to get up to start the generator anyhow, so I can now just manually switch over the power source after giving the generator a few minutes to warm up.
3. I can observe from the living room when shore power has returned, shut everything down, and switch the source back to shore.
4. The ATS seems to really only be more of a convenience and works better if the generator automatically starts upon losing shore power (kind of a bad thing in my opinion as this doesn't give the Genset time to warm up before loads are applied).
5. I'm done with the chattering of the ATS that will ultimately result in whatever line is chattering, disconnect completely and possibly result in a fire.
6. The top of the PD52 was getting really hot, so I removed the top to see if additional air would help (it didn't), but then I got to observe what exactly was going on and noticed that L1 would chatter the most. When resetting the CB at the outside RV panel, if it didn't pull all the way down, it would let out a little bit of smoke. I also found that when it started chattering, I could just use a stick to push it down again and all would be good for a while.
I'll post the progress and what is needed to be done when the switch comes in.
Hopefully this will help others encountering similar issues in deciding what to do. Again, these aren't cheap, which is probably why RV manufacturers don't use them.
A cheaper alternative would be to add a 50A RV outlet on the generator source line and plug the cord into that...but again, I really don't want to get out of the RV if it's raining outside.