Hello everyone, I need some assistance.
I have read through many posts in this forum regarding this issue but still have a couple questions I hope you can help me with.
First, my situation... I have a 2017 Cyclone 4114 with an Atwood 10 Gal hot water heater (Model GC10A-4E). I have an Anderson 4-way Valve and a Hot Water By-Pass Valve. I'm hooked up to city water and all valves are in the correct position. (Pics attached)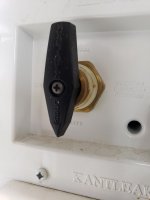 The issue...hot water runs fine, good and hot, good flow, then all of a sudden next time nothing. No flow through the hot water faucet. Cold water runs great. Turn it on and off a couple times (or wait a couple minutes and turn it on) and you hear a clunk sound and hot water runs freely. Also, hot water stops at all faucets, not just one or two.
I have read many posts that refer to a check valve on the hot water tank output, so I went out to look at that. Well, what I see is that there isn't one on the tank. I saw a small black plastic tube inline on the hot water output (pic attached). Could that be it? I can't think of anything else it could be. There is nothing else in line.
Any assistance or other ideas would be greatly appreciated. I want to figure this out before it becomes a permanent issue rather than an intermittent one.
Thanks