Are you looking for a beast of a towing machine! I've got one for sale.
But first, I want to explain to my friends here what's going on. Nancy and I are downsizing our RV after 8 Landmarks! We've selected the Sundance 262RB travel trailer (
more about that here
) and will be ordering a new F-150 Platinum SuperCrew 4X4 SRW 5.5' Bed to tow it with.
I've used the F-450 for a single towing season and let me tell you - this beast is amazing in terms of it's towing capability and it's comfort and safety features. In addition to being super-loaded with options, I also added $8k of upfit items.
And rather than list all the truck features, I'll attach a PDF of the window sticker and copy of my Classy Chassis receipt showing the items I had them add before I picked the truck up.
The truck will be available on or about May 23 in Elkhart, Indiana, ahead of the Goshen Rally. Note too that while I'm tossing this truck out there for serious parties, I am also still working a deal with my dealer and may trade it. Depends on who wants it more.
---
Ford F-450 Platinum Crew Cab 4X4 DRW

About 25,000 miles
Ford Premium Care extended warranty is transferable to the new owner at a pro-rated price plus transfer fee
Asking: $72,500
Questions: PM me with your questions and your phone number if you want a call

Link to a large gallery with a number of folders of pictures of the truck and accessories. Note: Dash Camera is not included in sale.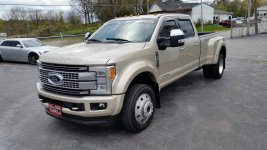 See attached PDFs (Ford Window Sticker and Classy Chassis upfit items)
Last edited: