It seems that the floor of the upper deck of our 2013 Landmark San Antonio is slowly falling out of the trailer.
Viewed from the outside, the fiberglass covering the underside of the overhang is gradually being pushed away from the sidewalls. On the curb (door) side, it has pushed the edge trim far enough down that a gap is now visible between the sidewall and the trim, just aft of the front cap: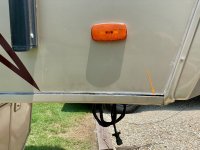 This is what that edge looks like from beneath the overhang:
And on the road (off-door) side, the underside is slipping out from under the edge trim, and a good-size screw has worked its way out and broken through the panel: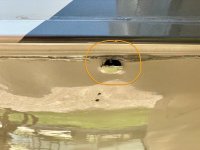 Inside the trailer, the bedroom cabinet has separated from the closet wall by about 1/4". (This is looking towards the front of the trailer; the closet is in the front cap.)
What is going on here?? I was thinking maybe water intrusion, but I've checked the joint between the roof and front cap, and it appears to be sealed tightly. We have not seen any indication of water inside the trailer.
And what do I need to do to get it fixed?