Hi All,
I spent it seemed like forever on line researching what alternatives were available for a solar/battery/inverter and protection setup and I never ran across anything that seemed very professional or that seemed like a complete top to bottom system.
4270 Heartland Cyclone
1300 Watt Solar & 400Amp Lithium
Here is what I installed starting from after the transfer switch, let me know if you have any questions.
1.
Surge Guard 35550 Permanent RV Surge Protector 50 Amp. With Remote Monitor
I would carry a spare as I've heard these will blow and are not re-settable. Or just use one that plugs into shore power before your AC cable
2.
Go Power GP-IC-3000-12, 3000 WATT INVERTER / 125 AMP CHARGER - 50A TRANSFER SWITCH with Remote Monitor
This is the only unit that I could find that will pass thru both 50amp legs of 120v while your hooked up to shore power.
So basically this unit can be in-line from shore power to rv breaker panel vs the other nonsense of sub panels.
3.
BEP Marinco Power Products Pro Installer EZ-Mount On/Off Battery Switch 400Amp
4.
Go Power! FBL-400 Class T 400 Amp Fuse with Block
5.
Copper Grounding Busbar, Ground Wire Included: No Item # 22LU64 Mfr. Model # HBBB14210A 2ea.
6.
Battle Born LiFePO4 Deep Cycle Battery - 100Ah 12v with Built-in BMS - 3000-5000 Deep Cycle Rechargeable Battery
7. Outback Flexmax 80 FM80 MPPT 80 AMP Solar Charge Controller
8.
Blue Sea Systems C-Series Single Pole Rocker Circuit Breakers 30A & 80A
9.
SM Panel A Series CB Breaker enclosure
10. LG, LG330N1C-A5, PV MODULES, 330W, BLACK FRAME, MC4-TYPE 4ea. If you want to double this you can go to 24V wiring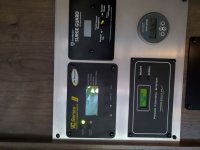 [h=1]
[/h]
[h=1]
[/h]