Hey Heartlanders,
This post is a bit premature as I don't have this unit yet, but it's "the plan" and I have a break of time to create this and a few related thread.
The Plan
As many of you know, I've had 8 Landmarks over the last 14 years. Prior to that, we had a travel trailer for a year and loved it. So much so that it became too small and we ordered our first 5th wheel.
Well, if all goes to plan, we will have come full-circle with our RV.
The plan is to have a Sundance 262 RB built late this winter and move into it in late May.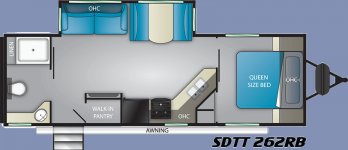 This means our current Landmark Newport is available for retail sale. We have one couple interested in it at this time and if their timing doesn't work out, look for a flyer for this Landmark demo coach to be placed in the For Sale area of the forum soon.
This all said, I remain a Heartlander. So, not going anywhere, just joining the Travel Trailer Tribe while remaining committed to Heartland RVs, the brand and all Heartlanders, regardless of which Heartland brand and model.
As you might expect, I plan to do a lot of modifications, tweaks, add-ons etc. I'll use this forum thread as my mod-thread and will try to keep the index below current so as the thread gets longer, post 1 will be the key to finding out what I've done last or what's coming.
Thank you Heartlanders for all your support these last past 14+ years. Here's to looking forward to a few more, but in a smaller footprint RV
---
.................

Jim's Sundance 262 RB Modifications,


......................

Add-Ons and Repairs Index


....
#
......
.
..
.
POST
...................
MODIFICATION NAME
.......
.
..
.
....
LINK
| | | | |
| --- | --- | --- | --- |
| 1 | 104 | Planned: Andersen 'No-Sway' Weight Distribution Hitch | Link |
| 2 | NNN | Planned: Multi-stage, externally used, indoor stored, water filtration system | Link |
| 3 | NNN | Planned: Under-Counter RO system (small) for drinking water faucet on countertop | Link |
| 4 | NNN | Planned: Disc Brakes | Link |
| 5 | NNN | Planned: X-Factor Cross Bracing | Link |
| 6 | NNN | Planned: HD Shackles and Wet Bolts | Link |
| 7 | NNN | Planned: SRE-4000 Suspension Equalizer | Link |
| 8 | NNN | Planned: StepAbove Staircase w/ Handle | Link |
| 9 | | Planned: Storage Box in-frame below steps | Link |
| 10 | 43 | Pending Installation: SmartPlug 50 amp power inlet, 50 amp cordset and protective plug storage cover | Link |
| 11 | | Planned: Swap out OEM bathroom fan for Fantastic Fan and Cover | Link |
| 12 | | Planned: Replace OEM tank roof vent caps with 360 Siphon vents | Link |
| 13 | | Planned: Replace OEM sewer outlet with Wastemaster system | Link |
| 14 | | Planned: Install Wastemaster hose storage container | Link |
| 15 | | Planned: Vinyl graphics (HOC etc.) - Mark Comer | Link |
| 16 | 35 | On Order: Seatcraft Venetian 7000 Leather Theater Seat (power recline, brown leather) | Link |
| 17 | 36 | Pending Installation: Oxygenics Fury Handheld Shower (white) | Link |
| | 69 | Planned: Energy Storage System (ESS) - Solar / Inverter / Batteries / Control/Monitoring | Link |
| | | Planned: CheapHeat electric only - in place of gas furnace (due to space restriction) | Link |
| | | Pending Installation: Nvidia Shield - in place of Apple Mac Mini and Roku (used to transcode and playback our digital media) | Link |
| | 101 | Pending Installation: Furrion 3 camera Vision S system (rear cam and 2 marker light cams + 7" monitor) | Link |
| | | On Order: Furrion Omni-directional Rooftop Antenna and 4G LTE/WiFi Router | Link |
| | | Possible Upgrade - REDARC BCDC1240D - 12V, 40A In-vehicle DC to DC Battery Charger to charge RV from Truck | Link |
| | 165 | Refrigerator Door Latch | Link |
| | | | |
Last edited: