Hi all,
Tiger Run Resort in Breckenridge, CO is considering bringing in a camp host for the summer. Dates would be approximately May 15 - Sept 15. Looking for a couple to work about 20 hours per week each in return for a free site.
The typical site is 50 Ft x 70 Ft with a concrete pad 20 FT x 60 FT. and normally rents for $115/night during the summer, or about $800/week. Sites include full hookups, including 50 amp electric, cable and WiFi suitable for streaming video. There are quite a few Resort amenities, and of course Tiger Run is in a beautiful mountain setting with summer high temps usually in the 70s and lows usually in the 40s. There are all kinds of recreational activities available in Breckenridge, Frisco, Dillon, and Silverthorne and surrounding areas.
Link to Tiger Run Resort website.
The camp host site would probably look like this:
Here are some other pictures from Tiger Run.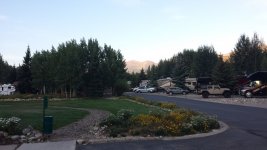 The value of the free site in return for your labor would work out to about $20/hour.
The anticipated work would be a combination of front office tasks, along with escorting RVs to their rental sites. There will probably also be inspection of rental sites prior to guest arrival and after departure. And it's possible there could be some light gardening or other light maintenance activities. Although not yet specified, I would assume you might need to be able to lift 20-30 lbs. from time to time. Also, altitude at Tiger Run is 9220 ft. above sea level. Depending on one's overall health, adjusting to the high altitude can take a week or longer. Tiger Run may not be a good choice for those with respiratory issues.
If this is something you might be interested in, please PM me with your interest level and any questions you might have.
And as previously said, this is something being considered. The program is not locked in yet.
Also, at the moment, this query is only being posted to this forum. Please do not share outside of Heartland owners.