Moved on to the next thing...
Located in Yuma, Arizona
2015 Heartland Prowler P292 5th Wheel
- Price reduced
- Or make an offer - motivated to sell quickly!
- Clean title, no bank loan - it is paid off so no screwing around with that stuff - pick it up and it's yours!
- 33-foot long
- 3/4 ton truck towable
- Ultra Lite - under 10,000 pounds loaded
- Keyless entry door lock
- Three slides
- TPMS (Tire Pressure Monitoring System) included
- Everything works, no leaks
- Brand new Group 27 deep cycle battery (upgraded from Group 24)
- 30-amp, 1 AC unit
- Batwing King/Jack replacement TV antenna upgrade - works great!
- One 19" Vizio flat screen TV in bedroom w/lockable swing & tilt wall mount - no TV in living room (keeping that one)
- New Hercules SP2 tires last summer - upgraded from 'D' to 'E' 10 ply roughly 4500 miles on them
- Had wheel bearings repacked and brakes done the same day as new tires
- Shower head upgraded to Oxygenics Fury RV Shower Head - big improvement over stock unit
- RV steps upgraded to Torklift Glow Steps - these steps are awesome!
- Three roof vents all with MaxxAire vent covers
- This trailer has less than 11,000 miles on it
- Two factory recliners
- New Rhino sewer hose setup and connections plus water hookups included
- Removed jackknife couch and had a desk there, now that spot is empty for whatever you want there
- Lots of other accessories included as well
- This thing is ready to rock!

Message me here or call 720-270-6171 (leave voicemail) or PM me here

Click here to see more photos on Facebook: https://www.facebook.com/groups/Yum...20938071349480/?sale_post_id=2220938071349480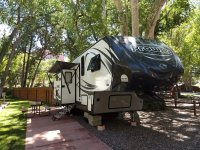 - This was the only Prowler in attendance at the 2016 Heartland Owners Club Nation Rally in Las Vegas, NV
- This 5'ver was also featured for the month of October in the Heartland Owners Club 2018 Calendar (photo below)