Founding Wyoming Chapter Leader-retired
One of our favorite organizations is Reaching Hands Ranch. The founders are Jenny Cramer and Tracie Crawford. They rescue abused, neglected, and needy horses. They also mentor to at-risk kids. With a brief explanation I put out a donation boot.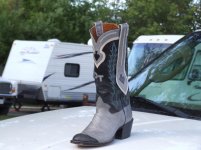 We raised $446.00. Thanks so much to everybody. If you would like to learn more you can follow the link below.
http://www.reachinghandsranch.org/index.html