Gang:
After a recent post about a member's terrible experience in 100 degree heat in which he couldn't get his hydraulic landing gear/slide in-out systems to work due to a grossly leaking 1/4 inch ID hydraulic line. I investigated some possible DIY emergency hydraulic line repair devices and decided on this one I got on E-Bay for about $20:
https://www.ebay.com/itm/143164267955
. After receiving this part and inspecting it, I was very impressed that it actually addresses 2 possible situations with your hydraulic lines: A leak at a line end fitting/hose, or a leak somewhere along the hose run.
I am posting a picture of the fitting disassembled into its 2 parts to illustrate what I discovered.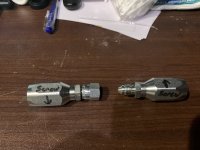 The left hand fitting screws onto the hacksawed off end of the hydraulic line (left hand screw thread) and makes a tight compressed seal with the hose. Note that the left side fitting has the same termination nut as is on the present lines, and can be screwed into the ram or pressure valve port like before. The right hand repair fitting mates with the nut on the left hand repair fitting to make (with the left side repair fitting) an effective hose repair splice.
I think that this hydraulic hose repair fittings kit should be on board every Heartland RV with hydraulic powered slides/landing gear, if you don't want to get stuck somewhere with your slides out and your landing gear unable to move. A couple of bottles of ATF for hydraulic fluid would be a good idea to have on hand, too.
Here's an end photo of the repair fittings giving you an idea of how they attach (screw on) to the damaged hydraulic line:
Last edited: