I am pleased to announce the Heartland Owners Club 2021 Tire Pressure / Temperature Monitoring System (TPMS) promotion!

Thanks to the HOC's TPMS Vendor Partner, Truck System Technologies (TST), the following offer is now in place:

Offer: 20% off all TST TPMS products
Code: HEARTLANDRV
Order: Online or by phone - www.tsttruck.com / 770-889-9102

If you order, circle back here and let others know about your ordering experience.

Thanks TST and thanks Heartland Owners Club members!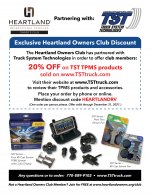 Last edited: