Since the day we first brought home the Terry, we noticed that just about every screw on the bands around the front window are put in on an angle. Then we noticed one or two missing screw heads, then a few more, then even more as the trailer was used and washed. My theory is that the factory over-torqued these screws. As they were put in, they did not seat and I think they were torqued trying to make the screw seat better. Here's a picture of just one of the screws:
This head fell off eventually. As did many others.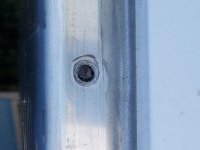 I contacted Heartland and sent an email and pictures, as requested. Never heard from them again. Our dealership is less helpful than Heartland, so we were on our own, as with ALL the repairs we have done. Scouring the internet, I finally found the double square screws and ordered 50 pcs. We had a break in the weather this past weekend and we were finally able to fix the screws which took a lot of patient drilling and removal. About 5 hours (two people), in all.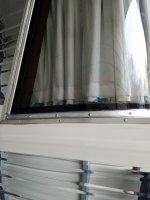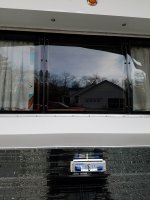 ​While we were at it, we painted the silver screws in the window, black. Much better. Also, a while back we looked at an older Airstream. It had a level on the outside and I wondered if they still made them. They do!
Cool!
So watch for the popping screw head....
Last edited: