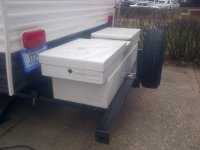 Our new trailer came with the slide out bumper so I decided its a good place to mount an old truck job box to use for dirty storage.
A good place to store the smelly items like gas and oil for the boat and saw , also somewhat secure compared to the compartment door locks.
This was done in the begining of the 2012 season and shows no signs of having problems from trailering about 7-800 miles on highway and rough logging roads.