My first project was to get a Progressive surge protector in and clean up the area behind the basement wall. In the first pic I already have it wired up as I forgot to take a pic before I started. The second is after I have it all done and some wires re routed and secured. I also hung all of the heat ducting and eventually will cut them to the exact length they need to be. I ran the monitor for the surge guard up to the switch panel.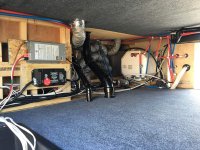 Then I installed a 5 led light on the drivers side to provide better lighting.
Next, my better half wanted a queen bed instead of the king. She mostly wanted this so there was more room to walk around the sides. She also wanted a place to put coffee phones and her kindle so I installed some bedside stands. Of course I completely agree with her! :angel:
I also installed our RV Lock but I don't think a picture is necessary.
More to come.